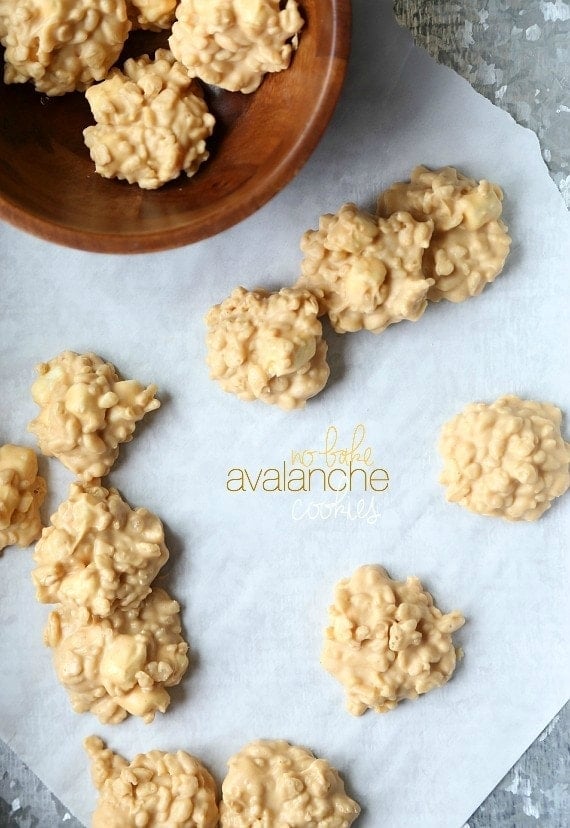 Today we're talking all out sweet stuff.
Like so deliciously sweet that you cantstopwontstop, but your teeth are starting to hurt and your belly has been aching for the past 5 bites, but don't you even think of quitting. Because I DON'T QUIT.


Just one more bite.

Wait, just another.

Ok, I can't leave 1/4 of a cookie..

Fine.

Great, now there is only one cookie left.

So it's fairly annoying to leave ONE COOKIE. Can't be annoying.

Guess I'll just eat that and then die from sugar. Because THESE COOKIES!


I have be honest for a quick second… wait, I mean I'm always honest.. why do people say that?
Why did I say that?
So let me be honest..because I'm always honest and being anything else but honest would be weird. Ugh.
Anyway. Full disclosure…I'm not a "no bake cookie" person.
It sort of seems impostorous. Is that a word?
Like hey little sweet melted chocolate blob, you ain't a cookie…you a candy. But thanks for playin', homie.
But today for the sake of internet searches and all the googly reasons I will call these no bake cookies. Because they're round and that's sort of cookie-ish. And you can eat it with you hands…also cookie-ish.
Wait, those are both candy things too. OMGMYBRAINRIGHTNOW!
I am sorry there is something totally wrong with me.

Let me just tell you how to make them, because really, isn't that why we're all here?

There are only 4 ingredients. So easy.

Pour some Rice Krispies and Mini Marshmallows in a bowl.

Then melt some white chocolate over a double boiler.

Once the chocolate starts to melt, add in the peanut butter and mix it until it's all melted and smooth.

Pour that on top of the krispies…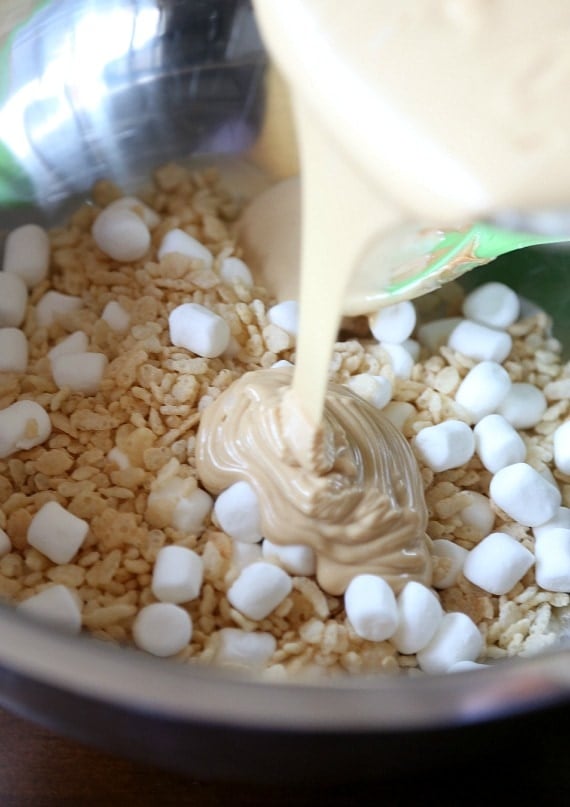 Then stir to coat…

And plop them down on a lined baking sheet.

Stick them in the fridge to set up…

Seriously you guys are going to LOVE these.

My original Avalanche Bar recipe was based on the treat they sell at Rocky Mountain Chocolate Factory…and I also put in little mini chocolate chips. You can add those here at the very end (so they don't melt) or just sprinkle them on top while they are still wet.

These things are so addictive and totally easy. ENJOY!

No Bake Avalanche Cookies Recipe
Ingredients:

2 cups Crispy Rice cereal
1 cup mini marshmallows
1/2 cup creamy peanut butter
1 lb white chocolate
How to Make:
Line 2 baking sheets with parchment paper, set aside.
Mix cereal and marshmallows in a large bowl. Set aside.
Melt white chocolate and peanut butter together in a double boiler. I prefer using a double boiler for melting white chocolate so it will melt slow and smooth, but if you prefer the microwave, you can do it that way too.
Once the white chocolate is melted pour it over the cereal mixture and stir until completely coated.
Drop using a tablespoon onto the lined pans.
Place in refrigerators until chocolate is set.



Notes: store airtight for up to 5 days in a cool place. You don't have to refrigerate these, but if they are kept in a warm place they could become sticky.


by: Cookies & Cups