The Refuge Mud Pie, by far, the most popular and the easiest to make. The ingredients can be purchased and assembled or you can use your own homemade crust, ice cream, sauces, and toppings. It's a brilliant, no-fuss dessert that's sure to please!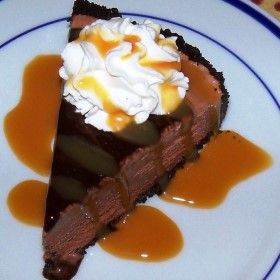 The Refuge Mud Pie Recipe
Ingredients:
1 chocolate cookie crust (see recipe below, if you would like to make your own)
1 - 1.5 qt. container chocolate ice cream, softened (I use Breyer's, but you can use your favorite)
1 cup chocolate syrup (I use Hershey's, but you can use your favorite)
Whipped Cream, for serving (I like Redi-Whip, but use what you like)
Caramel Sauce, for serving
Toasted Almond Slivers, for serving (not shown in photo - these are optional)
How to:
An 8-inch springform pan. You can also use a 9-inch pie plate, if you prefer.
Spread 1/2 cup chocolate syrup over the bottom and up the sides of the chocolate cookie crust in a thin, even layer. Freeze for at least one hour while you let the ice cream soften.
Spoon the softened ice cream into the crust, spreading evenly. Spread 1/4 to a 1/2 cup of the chocolate syrup over the top of the ice cream. Be sure to spread the syrup all the way to the edges, if you can. Freeze for 30 - 60 minutes. Remove the pie from the freezer and score for easy serving. Return the pie to the freezer for at least 4 hours before serving. If you are using a springform pan to make the pie, be sure to remove the sides before scoring. I usually let the pie set-up in the freezer for at least one hour before scoring.
To serve, use a warmed knife to cut the pie. Place a slice on a serving plate, add as much whipped cream as you like, and drizzle caramel sauce (again, as much as you like!) over the whipped cream and pie. If you like, sprinkle toasted almonds on top of the whipped cream.


Enjoy!!